COMING JUNE 12, 2018
Implosion: Memoir of an Architect's Daughter delves into the life of visionary architect, Woodie Garber, his adored daughter, Elizabeth, their family, and a mirror glass dormitory he designed for the University of Cincinnati campus. The family was caught in a collision of radical social change, modernism, and madness in the turbulent 1960s in Ohio. The tower dorm, known for out of control partying and an epidemic of arson, was only occupied for eleven years, and would be dynamited into rubble, the largest implosion in the US.
ABOUT THE AUTHOR
Elizabeth W. Garber is the author of three books of poetry, True Affections: Poems from a Small Town (2012), Listening Inside the Dance (2005), and Pierced by the Seasons (2004). Her memoir Implosion: Memoir of an Architect's Daughter will be available in June 2018. She has maintained a private practice as an acupuncturist for over thirty years in midcoast Maine, where she raised her family.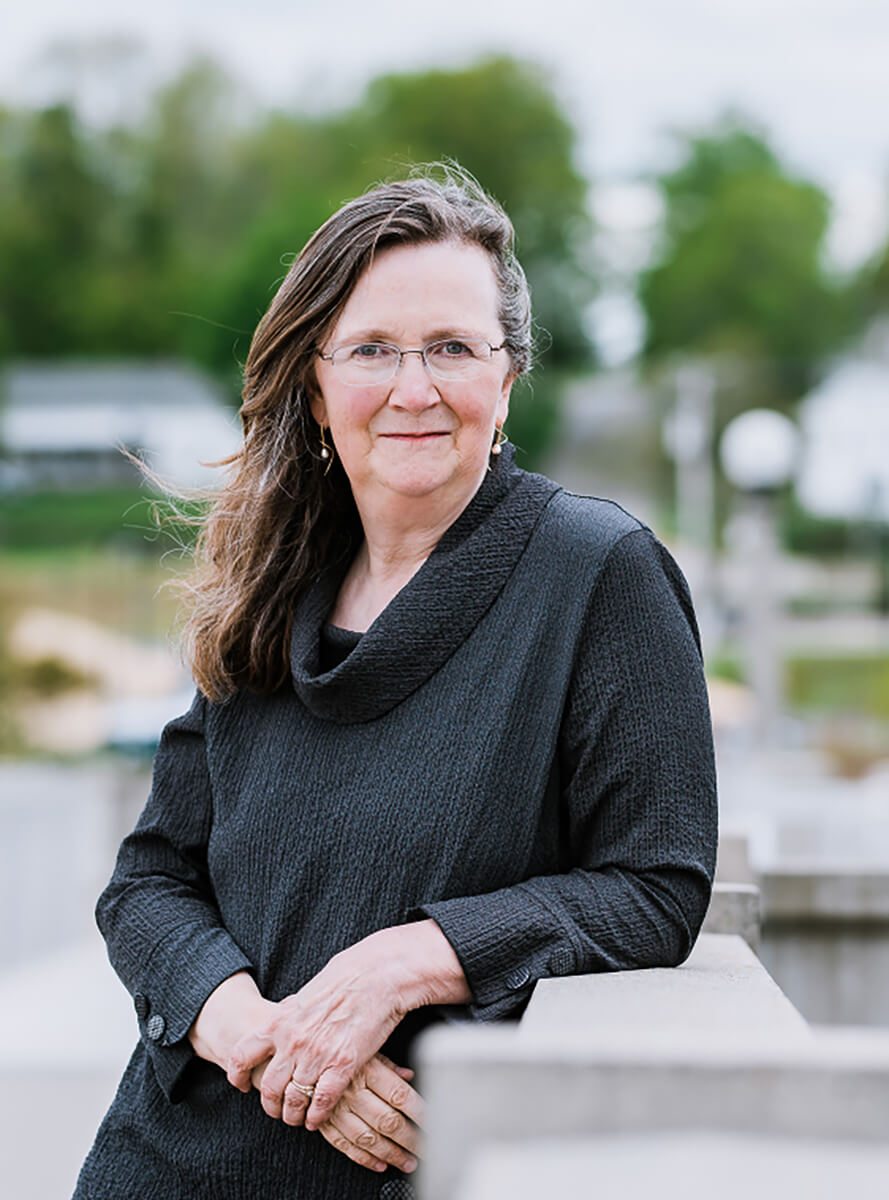 I was riveted by this story of an adoring daughter struggling to escape the dominance of her brilliant, charismatic  father. Garber writes beautifully about the layered complications of family love.
Few books have narrated the personal dimension of modernism like this one. The contradictions that bedeviled modern architecture—a passionate yet impersonal elegance—were played out in a glass house dominated by Elizabeth Garber's father, Woodie, a Midwestern modern architect extraordinaire.
Elizabeth Garber's exquisite prose compliments the love of art and architecture that she learned from her father. Her forthrightness and honesty resemble the direct, unpainted and undecorated aesthetic that her father promoted, but her gentle sensitivity is all her own.
Implosion is a remarkable feat. […] As an architect does, Garber constructs her story room by room, filling the space with both shadow and light. This is a beautiful book, written by a new and exciting writer.
By reading Implosion, one not only gains access to the intimate, tragic details of Garber's broken youth, but also to the public world outside her father's realm: one of parallel turmoil, complexity, and yes: implosion. A finely wrought narrative by a brave, unflinching writer.
Courageous, horrible, terrible and wonderful, this is a dark and tragic beauty of a memoir that could only be written by someone determined to be fiercely honest in her remembering and her art.
Elizabeth Garber's memoir drives as well as her Dad's fine sports car. Sleek, modernist sentences, high-power clarity of perception, bold telling it like it was.
LATEST NEWS
Implosion: Memoir of an Architect's Daughter will be released on June 12, 2018.
UPCOMING EVENTS
Belfast's poet, Elizabeth Garber, will be giving a talk and reading that follows her journey through writing four books of poetry, an MFA, her term as Belfast's Poetry Laureate, and how she unexpectedly ended up writing Implosion: A Memoir of an Architect's Daughter which will be released this June. Her talk will include lively stories about her writing life: a bi-lingual reading at Café Tortoni in Buenos Aires with a tango singer, writing retreats on Maine Islands, hearing Garrison Keillor read three of her poems on NPR, and an artist fellowship on a cattle ranch in Wyoming.
The first guest who requests an Advanced Reader's Copy of Implosion will receive her memoir for free in exchange for writing and posting a review.
Tuesday, July 10, 5:30-7pm
145 Harlow Street
Bangor, ME 04401
(207) 947-8336
Contact: bplill@bpl.lib.me.us.